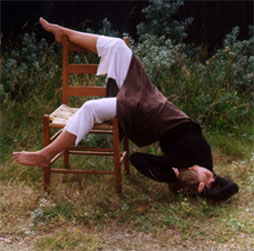 - the body is your instrument, your tool, which like time and condition can be controlled and understood, in order not to let ignorance be the limit.

TRAINING

Nordic Scholl of butoh is focusing a independent experimental work with dance body and creativity.

The students will individually receive various, inspiring competence and deep knowledge within dance and movement aimed at specific scenic use, but also applicable in other fields as artists, therapists, educators etc.
ABOUT THE TRAINING
- a comprehensive training system , offers elements such as perceptual awareness, sensorial body balance, centering, transformation of energy and creativity, rhythm and gravity, strength and flexibility, improvisation, composition and release movements such as whirling, spinal breathing, voice development etc.
The training develops strength and knowledge as well body and mind, to extend the physical expression to a more wide and effective language.
© Nordic School of Butoh 2004