PROFILE
Theater Dance Lab,
an internationally touring dance theater, founded in 1986 in Copenhagen by dancer and choreographer Anita Saij.
For a period of more than 15 years Theater Dance Lab has explored the boundaries of dance theater and its relation to other artistic fields.
It has often invited to collaborations across genres and cultures, and taken initiative to founding other progressive theatre environments such as Ørkenfortet with its specializing in circus, and the Blue Hall, a site for experimenting art.
The theater was from 1986-2002 financially supported by the Danish Theater Council and is now resting for a period of five years in order to give space to a larger Nordic project; THE NORDIC SCHOOL OF BUTOH founded by the artistic director Anita Saij.
Dance Lab has with its many performances achieved international recognition for a visual and powerful dance theater. Through the years it has toured festivals worldwide:
Japan, Korea, Poland, Portugal, Luxembourg, Finland, Lapland, The Faroe Islands, Norway, Sweden, Belgium, Estonia, Lithuania, Kroatia, France and Germany.

Amongst the newer danish dance theaters, only few has attracted as much attention as Theater Dance Lab from Copenhagen. And with good reason. Its unorthodox, surprising and artistically consequent performances of dance theater have from its very beginning in 1986 accomplished to bring forward great experiences, pushing the spectators imagination of what dance can be".
Ulrik Skeel, Odin Theater´ 98.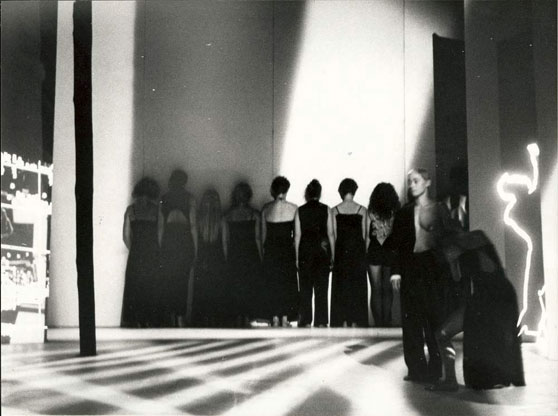 photo Karen Thastrup